Agricultural Water Pump Applications
GATOR Pumps have been used by agricultural producers worldwide for over 40 years.  Our pumps were originally designed to give the farmer a portable, reliable pump that he could quickly employ for all pumping operations.
Our pumps operate in canals, ditches, ponds, streams and lakes without suction lines or priming.  We can filter out materials that clog sprinklers and nozzles that feed pivot systems.  GATOR Pumps can be trailer mounted or in 3-point tractor hook-up for easy and portable one-person operation.
Applications include:
Crop irrigation pump (flood and row irrigation)
Dewatering of crops
Dairy and hog waste management
Tail-water reuse
Dredging water intakes for irrigation and aqua-culture
Harvesting of peat bogs
Cleaning of ponds or lagoons of sludge and sediment
Aquatic weed control
High-volume water transfers from ponds, canals, ditches, and rivers
Crawfish & Shrimp farms
Catfish farms
At GATOR Pump, Inc., our pumps have been used by agricultural producers worldwide for over 40 years. They were originally designed to give farmers a portable, reliable solution for all of their pumping operations. While they've since found use in many other demanding industries and applications, they continue to serve as a key piece of equipment in the agricultural industry. Whether your application involves pumping water from flooded fields, supplying water to flood and furrow-irrigated farmland, or driving pivot sprinkler systems, there is a GATOR pump to fulfill your needs.
Importance of Agricultural and Irrigation Water Pumps
In the agricultural industry, industry professionals make extensive use of pumps for irrigation and other water management purposes. The equipment enables them to move massive quantities of water quickly. Compared to older water management methods, it accommodates much higher volumes (typically hundreds or thousands of gallons per minute), which is necessary to keep various growing and harvesting operations running smoothly and efficiently.
There are many types of water pumps for agricultural applications. Each one varies slightly with regard to design and configuration, making them suitable for different operations. Some of the key factors to keep in mind when choosing one for a particular operation include a water source, desired flow rate, desired total suction head, and desired total dynamic head. Irrigation pumps for small fields located immediately beside a water supply do not have the same requirements as those used to flood large fields from a distance. Portability and compatibility with existing equipment are also essential. The former is important for operations that require the distribution of water from several different water sources to several different sites, while the latter is important if the operation already has an existing irrigation setup.
One of the most commonly used types of irrigation pumps is the power take-off (PTO) pump. It is designed to connect to tractors and use the power from the driveshaft to move water. They serve as an easy and convenient pumping solution for agricultural professionals with existing tractor equipment or power sources.
Uses of Agricultural & Irrigation Water Pumps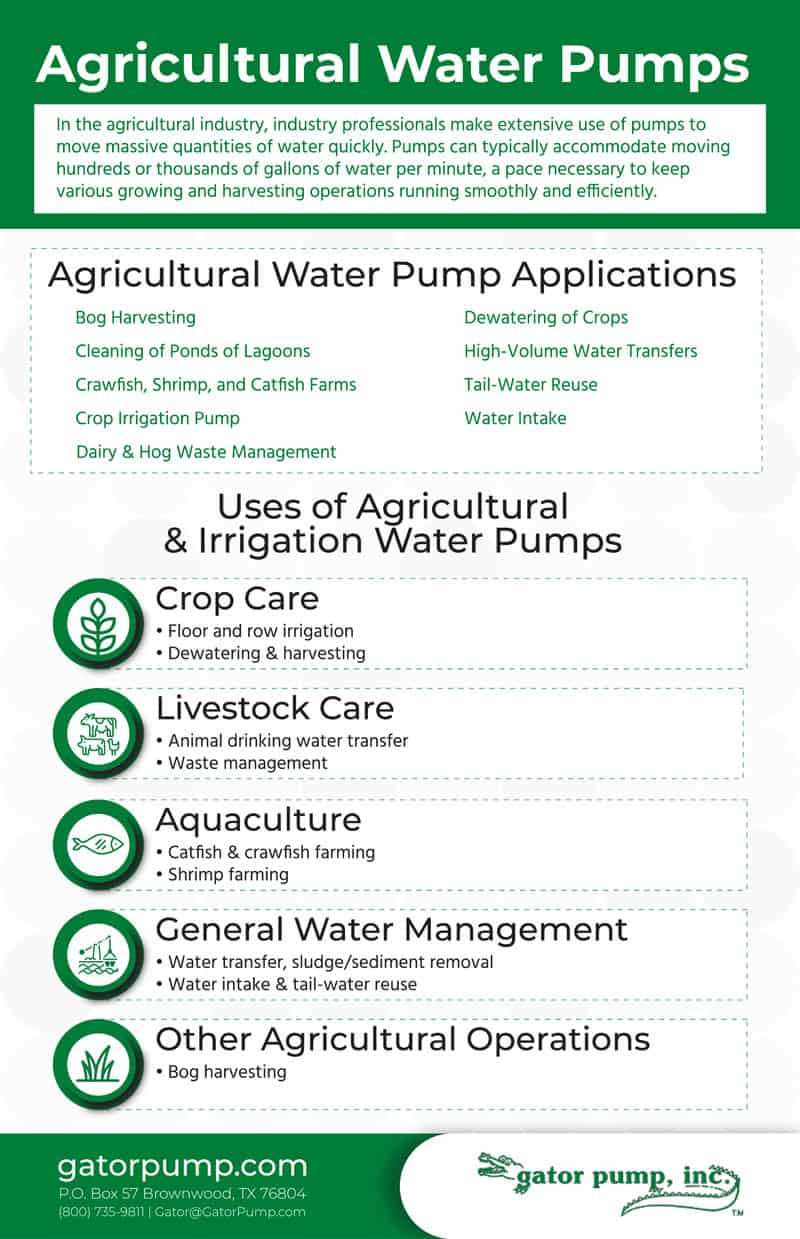 Click to Enlarge
Agricultural pumps find use in a wide range of applications, including, but not limited to, the following:
Crop care, such as floor and row irrigation, dewatering, and harvesting
Livestock care, such as drinking water transfer and waste management
Aquaculture, such as catfish, crawfish, and shrimp farming
General water management, such as water transfer (from ponds, canals, ditches, and rivers to agricultural sites for crops and livestock as well as towns and villages for homes and businesses), sludge/sediment removal, water intake dredging, and tail-water reuse
Other agricultural operations, such as peat bog harvesting and aquatic weed control
Agricultural Pump Equipment at GATOR Pump
GATOR Pump serves the agricultural industry by providing durable, reliable, and easy-to-use pumps. Our products can be used in canals, ditches, ponds, streams, and lakes without suction lines or priming. Additionally, they can filter out any materials that clog the sprinkler and nozzle components of pivot systems to reduce the risk of blockages occurring and can be configured for trailer-mounting or three-point tractor hook-up to facilitate multi-person or one-person operation.
GATOR Agriculture PTO Trailer Pump
Our standard pump offering is the GATOR power take-off (PTO) water pump. It was designed specifically for use in the agricultural industry, providing excellent power and performance while requiring minimal setup and maintenance. Its portability and compatibility enable agricultural workers to transfer water in any application that accommodates a trailer, from flooding water to farm fields to removing water from flooded fields.
GATOR Pump Benefits:
Considering there are no suction lines, no priming or check valves, no mechanical seals, and no internal parts other than an impeller, the GATOR Pump is by far the most durable, maintenance-free, cost-efficient option for the farmer or agricultural producer. In addition, our in-house artisanal manufacturing means that customization is easy at the time of purchase. For example, we've had previous customers add a diesel engine or electric motor, relocate/swivel the discharge pipe onto one of our pumps to aid in mobility.
As you browse our selection of pumps, please keep this in mind and don't hesitate to include your customized modifications when you request a quote. We pride ourselves on the easy and flexible design that our pumps offer; customer design modifications and longer models are available upon request. We are always happy to provide custom engineering services to ensure that our pumps do exactly what customers need them to do.
Custom Specialty Water Pumps
While our standard water pumps are engineered to suit a variety of workflows, modifications we have made for our customers' unique operational needs have often led to new product lines.
Custom Specialty Water Pumps
While our standard water pumps are engineered to suit a variety of workflows, our customers often request modifications to meet their unique operational needs. We are always happy to provide custom engineering services to ensure that our pumps do exactly what customers need them to do.
Some examples of past custom work, which are now part of our regular production, include:
The GATOR 3-pt Tractor Canal Pump: In response to a request for a PTO pump that would work alongside tractors in canals and ditches, we created the 3-pt Tractor Canal Pump. It is now available in 6-inch, 8-inch, and 10-inch discharge sizes with peak flow exceeding 5,000 US gallons per minute.
The GATOR Pivot Pump: This pump was designed for pivot sprinkler operations that utilized groundwater sources. It features a flotation mount that keeps the inlet at the top of the water and double-screened filters to keep out materials that would otherwise clog nozzles and lines.
The GATOR Cart Pump: Not all of our clients have large operations. The GATOR Cart Pump arose from a request for a portable pump that could easily be loaded and operated by a single worker. The resulting light, portable cart pump is now available in gasoline and electric variations with either a 2-inch or 3-inch discharge.
As these examples illustrate, GATOR Pump puts customer needs front and center in our engineering process. We are always happy to develop custom irrigation pumps for challenging agricultural situations. Whether you need to access a specific water source, remove problematic sediment, or workaround another unique constraint, we'll build on our reliable base designs to yield a custom solution that works for you.
Gator Pump Power Take-Off (PTO) Pump Capabilities
GATOR Pump's very own GATOR PTO pump provides a variety of benefits and high-level capabilities for a diverse range of uses.
Gator Pump Specifications:
Gator Pump

Output Specifications

One acre of soil covered by one foot of water (an acre/foot) = 326,000 gallons = 2,269 cubic meters
Therefore, one GATOR 16″ pump moves 1 acre/ foot every 32 minutes = 1.85 acres/feet per hour
Turning @ 1,000 rpm, a tractor uses about 1 gallon of fuel per hour for every 20 hp

Energy Usage Specifications

Using 75 hp, the GATOR 16″ pump at 1000 RPM & 10′ head delivers 10,000 GPM = 600,000 GPH and requires only 3.75 gal of diesel fuel per hour.
Therefore, 100 hp requires approximately 5 gallons of fuel per hour, making the GATOR Pump very economical

Case Study:

One 24″ GATOR Pump can deliver 18,000 gallons per minute. This is also equivalent to 3.3-acre feet per hour, or 4,070 cubic meters per hour.
One 24″ GATOR pump can empty an Olympic swimming pool (660,000 gal) in 37 minutes
* The above specifications and figures are calculated on the transfer of ordinary plain water. Although increased solids content or denser viscosities will require slightly more fuel and power to achieve similar flow results, these calculations are suitable for estimating the power required and time/flow rates.
Estimates for power and horsepower requirements are available for electric and hydraulic motor drives.
Gator Pump: Your Expert and Partner for Quality Agricultural Pumps
At GATOR Pump, we specialize in the design and manufacture of high-quality pumps for a variety of industries and applications. One of our core markets served is the agricultural industry.
The Original GATOR Trailer PTO Pump is recognized globally as a high-performance option for agriculture, boasting a rugged design that withstands years of use in demanding operations. Our in-house manufacturing team reviews each order, offering customization options to ensure that our pumps integrate seamlessly into existing irrigation or other water management systems. Custom orders extend these capabilities even further, allowing our team to offer unique designs that still reflect our commitment to compatibility, low operating cost, and lasting performance.
GATOR Pump has proudly served the agriculture industry for over 40 years, and we still provide replacement parts for all of our original clients. To learn more about our products and services and how they can benefit your agricultural operations, contact us or request a quote today.